Peaceful Valley is a gem but the secret is out and running up the hill. The scenic location and closeness to downtown are too much to resist for developers. For several decades, the neighborhood has resisted drastic changes and remained a sweetly paced, unique community in the heart of Spokane.
Our first Indians fished here, wood-frame homes designed by miners and loggers still make up the district, and today residents work hard to retain that integrity. The Peaceful Valley Charrette was a recent effort to involve the community in the design and planning process around the neighborhood's parks.
Now the Riverview Condominium proposal looms, a creeping abstraction some neighbors say is equivalent to a solar eclipse. It is a monolithic juxtaposition in a neighborhood full of small charms and idiosyncrasies. Residents who had worked tirelessly to improve the neighborhood opposed the tower. So they sued and were called NIMBYs for their efforts. Then developer Mick McDowell filed a lawsuit against the city in an attempt to bypass the comprehensive plan and build the tower for less money closer to Peaceful Valley. It was part of this controversy that birthed the more controversial Proposition 4 – to give neighborhoods a stronger voice in the development process.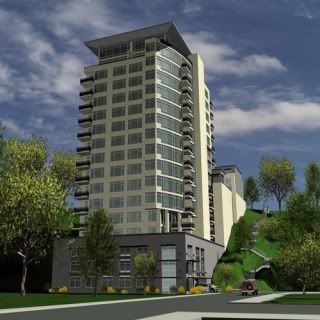 Image courtesy of Steven Meek Architects.
The City Design Review Board examined elements of the condo proposal at 1404 W. Riverside Avenue just east of the Maple Street Bridge and it sounded like the structure adhered to all downtown design guidelines, codes, and zoning regulations. The stars aligned for developers since the property is located in a special height district that allows a construction height of 150 feet off of Riverside Avenue and north of the street for 100 feet. The project includes:
18 floors of residential on top of a 3 floor parking garage.
60 total units.
There will be approximately 93 parking stalls in the garage for a ratio of 1.55 stalls per unit.
The site is approximately 96 feet wide and 212 feet long.
Still, a building permit application has yet to be submitted. It's easy to look at McDowell with a jaundiced eye and not just with knee-jerk defiance to a new developer in an old neighborhood. This from McDowell in an interview with the Spokesman:
"I find the constant paralysis by analysis frustrating. I have never ever shied away from presenting my case to a jury of peers. If I have a disagreement with a neighbor and we both present our cases to the appropriate body, I will live with the decision that's reached. But what drives me wild is when we have a holdup of the process by a minority. It drives me wild."
Not exactly a display of the self-consciousness a concerned neighbor would hope for in the role of the development process. But if you build it, will they come?
Builder George Doran knows. He lost hundreds of thousands on his Peaceful Valley project, the Lina Marta Condos, located at 1405 W. Water Ave. And this was just a four-unit building! Word is that foreclosure awaits. "Maybe we went a little overboard for that area as it is right at the moment," Doran said in a story, aptly titled.
While we're all for dense living and urban revival in old neighborhoods, the Riverview structure would be Spokane's mammoth pink elephant, casting a shadow on century-old dwellings. Peaceful Valley residents cherish the unique and fragile – whether student murals on the Maple Street Bridge or renovating a dilapidated house – and they are deeply rooted in this place as the landscape continually threatens to change. Something important is at risk of being lost.